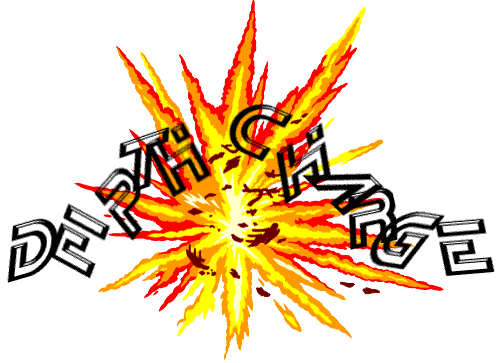 2001 Depth Charge / Carolina Photos III
All images on this page © 2001 by Christina Young.
The SS Carolina was a 380 foot long passenger liner sunk in WWI by the U-151 on "Black Sunday", June 2, 1918, along with five other ships, including the freighter Texel and collier Winneconne. The wreck was discovered and dived in 1995 after extensive research by John Chatterton and John Yurga. The Carolina lies in 250 feet of water approximately 65 miles east of Atlantic City, New Jersey.
For additional information on the background about the SS Carolina, please consult the Seeker's Carolina page.
The following pictures (all images from video) are from the voyage of the Depth Charge to the SS Carolina, Sunday, September 3, 2001 (continued from a previous trip on Page II).
Petey Wohlleben and John Chatterton retrieve the mooring line to tie in, just after the crack of dawn. We had left Brielle around midnight. This mooring is gone, by the way, so next year any boats going out there will have to tie in the hard way.
Here's one of the many portholes again. It's very dark because it's early in the morning and the sun isn't fully up yet. Visibility is really great, through, as you will see later on.
The light is shining on the top edge of a porthole storm cover. All the storm covers are steel, so they are junk.
Billy Cleary explores the wreck. He is actually concentrating hard and getting menu ideas for his new seafood restaurant, the Shipwreck Grill (just opened on Nov. 14). See that ling cod looking at the porthole a couple of pictures above? ;-)

I apologize for the dark images here, I spent most of my time working on artifacts, so I didn't bring my normal video lighting.

This doesn't look like an incredible picture, until you realize that I took it from my 110 foot deco stop, looking down at Mike Trapani and Billy down on the wreck! That's over 150 feet away from where they actually are! The top light is Mike's blue HID, and the bottom is Billy's Blue Water "Bruce" light.
Here's an even more amazing picture - I zoom in on Billy while he is inspecting an ornate sink down on the wreck! Again, this is from my 110 foot deco stop!
Looking at the Depth Charge above from 40 feet below.
Billy (top) and Mikey (bottom) do their deco at their 40 and 50 foot stops.
Billy thinks some more about what to put on the menu. Some plankton floats by.....
Back to Depth Charge 2001 Carolina Photos II
Forward to Depth Charge 2001 Carolina Photos IV

Back to Home | Back to Photos | Back to Scuba Photos | E-mail Me