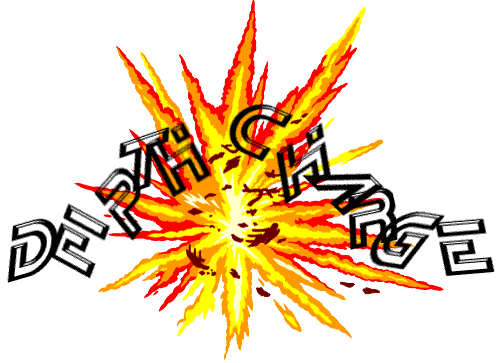 2001 Depth Charge / Carolina Photos II
All images on this page © 2001 by Christina Young.
The SS Carolina was a 380 foot long passenger liner sunk in WWI by the U-151 on "Black Sunday", June 2, 1918, along with five other ships, including the freighter Texel and collier Winneconne. The wreck was discovered and dived in 1995 after extensive research by John Chatterton and John Yurga. The Carolina lies in 250 feet of water approximately 65 miles east of Atlantic City, New Jersey.
For additional information on the background about the SS Carolina, please consult the SS Carolina Virtual Museum and the Seeker's Carolina page.
The following pictures (all images from video) are from the voyage of the Depth Charge to the SS Carolina, Sunday, July 22, 2001 (continued from Page I).
| | |
| --- | --- |
| John Chatterton decompresses at his deep stops on the way back up. | |
| | Looking down at some china during a deco stop. |
| Someone up on the boat looking down at me while I'm at my 20 foot stop. | |
| | John shows off a creamer that Billy got. |
| John continues to train his new china-sniffing dog. | |
| | Me with some china. Notice the barbeque grill in the background. We feasted fabulously during this trip! |
| A closer look at some of the stuff. All of the large dinner plates came out of the same hole. The rest were close by (there's more in the bucket). On the Carolina, you usually don't have to go far from the tie-in point to get a lot of stuff, as it's all over the place. You just have to dig for it. | |
| | John showing off one of his nice oval pieces. Many artifacts like these that we and other local divers recover will be on display at Bill's new Shipwreck Grill. |
| Unfortunately, Captain Cleary can't do a second dive due to a large boil. ;-) You're probably wondering why we have so much time on our hands.... we were killing time while a first-timer spent hours hanging from his second aggressive dive in one day. | |
Back to Depth Charge 2001 Carolina Photos I
Forward to Depth Charge 2001 Carolina Photos III

Back to Home | Back to Photos | Back to Scuba Photos | E-mail Me