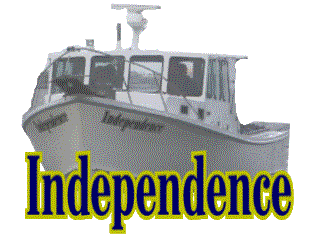 2001 U-869 Memorial Service Photos I
All images on this page © 2001 by Christina Young, unless otherwise noted.
The U-869 is a type IXC/40 German U-boat. It is 252 feet long and lies 230 feet beneath the North Atlantic, 60 miles east of Manasquan Inlet, New Jersey. It was discovered in 1991 on a Seeker deep exploration trip. The problem was the lack of any record of a U-boat being sunk off of New Jersey. With the concerted and persistent efforts of John Chatterton, Richie Kohler, John Yurga and others, it was finally identified as the U-869 in 1997. The U-869 is listed in the German U-boat archive as having been sunk off Gibralter in 1945. How she sunk is also a mystery, quite possibly from her own malfunctioning torpedo which blew off the conning tower and demolished the control room. There is a large hole in the stern, also the source of much mystery and research. One theory suggests that the passing freighter Harpers Ferry could have been the intended victim, saw the U-boat and fired its gun, hitting the stern, but this theory is in dispute primarily due to its reported location.
Last fall the PBS documentary show Nova had a 2-hour special on the mystery of the U-869, which introduced us to Barbara Bowling of Maryland (USA), whose brother Otto Brizius was a crewmember aboard the U-869 when it disappeared. She was born after the war, and thus never met her brother. In the show, Richie Kohler told her that John Chatterton and himself had identified her brother's ship off New Jersey. It was quite an emotional moment. Our mission today is to bring Barbara and her family to the site of her brother's grave, and to lay a wreath on the wreck commemorating him, the other crewmembers, and the three divers who lost their lives here.
For additional information on the background and identification of the U-869, please consult the U-869 Virtual Museum, the Seeker's U-869 page, and U-Boat.net.
The private dive boat Independence is a 33-foot BHM that cruises up to 25 knots. This boat is especially outfitted for deep wreck diving expeditions far offshore.
The following pictures (all images from video) are from voyage of the Independence to the U-869, Sunday, August 5th, 2001.
John Chatterton and Richie Kohler, just before we pull out of Dan's dock. The forecast is great today, but the fog has not burned off yet out in the bay.
Dan Bartone navigates through the fog on his way to Manasquan Inlet.
John and Frankie Pellegrino hit the sack during the journey to the site. John has worked all night moving rocks through underwater caves underneath the World Financial Center in Manhattan, as part of his job as a commercial diver. It's definitely one of the most unique (and apparently exhausting) jobs around!
This is Richie Kohler (2nd from right) with Barbara Bowling (middle), her husband Mac (left), and son Mac Jr. (right). It was their first time offshore and out of sight of land. They seemed to be loving every minute of it!

Photo © 2001 by Richard Kohler

When we get to the wreck we find that Frankie's mooring that was placed on the wreck two months previous during a trip on the dive boat Eagle's Nest is still there! That eliminates the need for us hook and tie into the wreck. Frankie snags the mooring buoy with a boat hook.
This is Richie's girlfriend, Carrie Bassetti. She is a superb recreational diver, and is in the process of transitioning to technical diving.

Photo © 2001 by Richard Kohler

This is the wreath that we will place on the wreck. It has 56 white carnations, one for each crewmember of the U-869, 3 yellow carnations, one for each diver who died on the wreck (Chris Rouse Sr., Chris Rouse Jr., and Steve Feldman), and a red rose for Barbara's brother Otto Brizius. The black ribbon with gold lettering reads "Last Honor" in German.

Barbara Bowling designed this wreath herself.

This ribbon designates the German war grave organization. This wreck is a war grave, and thus any human remains should not be disturbed.
Bavarian chapter. Otto was from Doernbach, Donnersbergkreis.
John Chatterton, Frankie Pellegrino, Richie Kohler, Barbara Bowling and Christina Young pose with the wreath.

Photo © 2001 by Richard Kohler

Mac Bowling Jr., Barbara Bowling and Mac Bowling Sr. with the wreath.

Photo © 2001 by Richard Kohler
Forward to 2001 Independence U-869 Memorial Page II

Back to Home | Back to Photos | Back to Scuba Photos | E-mail Me