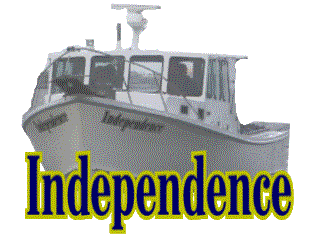 2002 St. Augustine Photos I
All images on this page © 2002 by Christina Young.
Welcome to the dive boat Independence, a 33-foot BHM that cruises at up to 25 knots. This boat is especially outfitted for deep wreck diving expeditions far offshore.
The USS St. Augustine (PG-54) was originally built as a 272-foot, luxurious, pleasure yacht in 1929, and served two different wealthy owners under the names SS Viking and SS Noparo. She was sold to the US Navy in 1940 and converted to a gunboat for coastal defense and convoy escort duties along the eastern seaboard. She was instrumental in the sinking of the U-701, even though she didn't sink it directly. In January of 1944, while escorting a convoy of just a single ship off Delaware (along with two other coast guard escort vessels) to Key West in a gale, the blacked-out, Trinidad-bound tanker Camas Meadows (not part of the convoy) struck her on the starboard side. The St. Augustine sank in 250 feet of frigid, rough seas within four minutes of the collision, killing 115 of her 145-man crew.
A most excellent and extensive account of the history and sinking of the St. Augustine can be found in Gary Gentile's just-released 2nd edition of Shipwrecks of Delaware and Maryland (© 2002 Gary Gentile). Also see the NavSource entry for this ship.
The following pictures (all images from video) are from the voyage of the Independence from Cape May, New Jersey, to the St. Augustine on Wednesday, July 3, 2002.
| | |
| --- | --- |
| Frankie Pellegrino gives two thumbs up for his shiny, new anniversary edition Poseidon regulator, one of only 11 in the country. Dan Bartone is suiting up on the right, assisted by Steve Lovas. | |
| | Going down the anchor line, the wreck looks inviting, with great visibility. |
| We are near the center of the wreck, in which most of the superstructure has collapsed. It is possible to slip through the frame of the main decking in the center into the decks below (careful - it is very tight). The bow and stern sections of the superstructure are still pretty much intact. | |
| | I see something hanging on the wall off yonder. |
| It turns out to be a beautiful clock hanging on the wall. The hands read 3:30. | |
| | The debris field around the center of the wreck. |
| Swimming back towards the stern section. | |
| | Looking up at the stern superstructure. |
| Inside the stern superstructure. | |
| | Looking back towards the bow. The light in the upper left is a strobe on the anchor line. |
| Large brass objects in the debris field. I'm not completely sure what this is, but it is very big. | |
| | A gauge panel. |
Forward to 2002 St. Augustine Photos II

Back to Home | Back to Photos | Back to Scuba Photos | E-mail Me