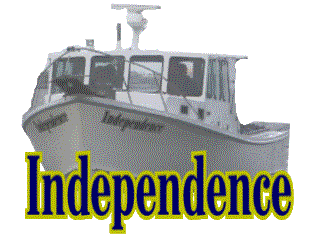 2001 Independence / Carolina Photos II
All images on this page © 2001 by Christina Young, unless otherwise noted.
The SS Carolina was a 380 foot long passenger liner sunk in WWI by the U-151 on "Black Sunday", June 2, 1918, along with five other ships, including the freighter Texel and collier Winneconne. The wreck was discovered and dived in 1995 after extensive research by John Chatterton and John Yurga. The Carolina lies in 250 feet of water approximately 65 miles east of Atlantic City, New Jersey.
For additional information on the background about the SS Carolina, please consult the SS Carolina Virtual Museum and the Seeker's Carolina page.
The private dive boat Independence is a 33-foot BHM that cruises up to 25 knots. This boat is especially outfitted for deep wreck diving expeditions far offshore.
The following pictures are from voyage of the Independence to the SS Carolina, Wednesday, August 22, 2001 (continued from page I).
This is me showing off a very nice vegetable dish I found. Enrique took this shot.
And Richie Kohler [face obscured by bubbles ;-)] shows up with a large piece of sheet metal!
Here I show off my plate and a piece of very ornate sink back on the surface. An intact sink like that would probably be worth a fortune.

Photo © 2001 by Paul Whittaker

We find that the piece of sheet metal is actually the brass builder's plaque from the 1914 retrofit! Here is Richie and his son posing with this beautiful artifact.
Enrique and Richie with the plaque. Richie had only a couple of minutes of bottom time left, and only two pieces of broken china, when he swam past an uninteresting piece of metal leaning up against the engine, out in the open. As he picked it up, he could see letters on the back spelling out "lina", and his heart jumped instantly! He turned it over to discover that it was the builder's plaque!
A closer look at the beautiful plaque. It reads:

S.S. Carolina

No 172 Built By

Newport News Shipbuilding

And Dry Dock Company

Newport News, VA USA

1914

This is the very first artifact recovered from this wreck to have the ship's name inscribed on it.

Dan Bartone found a nearly loose porthole (both backing and swing plates) that he wiggled free and shot to the surface on his lift bag.
A closer shot of the beautiful porthole later that night at Dan's house.

Photo © 2001 by Paul Whittaker

Paul Whittaker brings back a meal of mussels on this dinner plate. There were ones down there with lobsters as well, but he wasn't in a lobster mood. ;-)
Paul also got this small brass tag.
He scraped some of the rust off to find that it is the engine serial number tag! It reads "ENGINE No. 34516".

Photo © 2001 by Paul Whittaker

And Paul also got this nice, brass wall lamp.

Photo © 2001 by Paul Whittaker

A closer look at the seal on the Carolina china. It is the logo of the New York & Porto Rico Steamship Company.

Photo © 2001 by Paul Whittaker

It's been an outstanding day, and I drive the boat back to Barnegat Inlet. Remember, if you don't dive the Carolina this year, you'll just be one year older when you finally do it. ;-)

Photo © 2001 by Paul Whittaker

As usual, Josephine is excited to see us when we get back to Dan's house.

By the time we get done unloading and cleaning the boat, it's already dark. Here is our group shot for this successful trip! From left to right: Paul Whittaker, Dan Bartone, Richie Kohler (back), Richie Kohler (front), Enrique Alvarez, Christina Young (Photo © 2001 by Paul Whittaker).

I hope you have enjoyed these pictures, and keep sucking down the helium like we do - it's good for you!
Back to 2001 Independence Carolina Photos I
Forward to 2001 Independence Carolina Photos III

Back to Home | Back to Photos | Back to Scuba Photos | E-mail Me