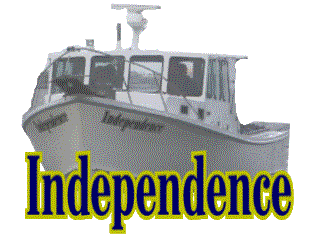 2001 Josephine Photos
All images on this page © 2001 by Christina Young.
Welcome to the private dive boat Independence, a 33-foot BHM that cruises up to 25 knots. This boat is especially outfitted for deep wreck diving expeditions far offshore, with extra safety equipment such as a single sideband and a zodiac.
The Josephine is a large, unidentified steel freighter in 220 feet of water, approximately 70 miles southeast of Barnegat Inlet, New Jersey. This is just one of many faceless offshore hang numbers just waiting to be checked out and identified!
The offshore weather so far this spring in the northeast has been terrible, and almost no one has been able to get out there! So when we finally had a break in the weather, there was little choice but to take off from work and go have some fun!
The following pictures (all images from video) are from the voyage of the Independence to the Josephine on Tuesday, June 5, 2001.
This is the new fill station at Dan Bartone's house. If you need any gases topped off before we leave or fills after we come back, it's done here. We're adding a Haskel booster pump next week.
We leave just before sunrise to make the 70 mile trek offshore. We're leaving out of Barnegat Inlet today. Dan docks the Independence behind his house, which is equidistant from both Manasquan and Barnegat inlets.
Capt. Steve Lovas pilots the Independence past Barnegat Light. Both Dan and Steve just got their 100-ton master's licenses this spring.
We arrive out over the site a few hours later. It is a flat calm, clear day, and we are amazed at the amount of wreckage we see on the bottom finder!
Descending upon the Josephine, I see a huge wreck below me. Visibility is good.
Dan Bartone rigs up the anchor line with sisal. We are alongside of a large superstructure. Visibility is great, but there is a lot of plankton in the water.
Looking up at the large superstructure. Amazing, isn't it!
Swimming around, it quickly becomes apparent that this wreck was some sort of freighter. Much of it is collapsed, but there are areas resembling holds.
Dan Bartone on the Josephine's forward mast, scanning the area for any sign of fallen bells. :-)
Part of the Josephine's superstructure.
Dan Bartone inspects the bridge.
Pieces of this wreck are very intact, and other parts are completely broken up.

Steve Lovas returns from his dive a very happy camper!

This is me, just having returned from a great dive with my Mk-15 rebreather. I'm glad that the weather has finally broken and summer is here after the rough spring we had! It's days like these that make all the rough days and hard work worthwhile!

The sun is getting low on the horizon as we pull back into the dock. The "other" Josephine (Dan's 150 lb. Great Dane) rushes out to greet us!

I hope you've enjoyed these pictures... stay tuned for more great pics shortly!

Back to Home | Back to Photos | Back to Scuba Photos | E-mail Me