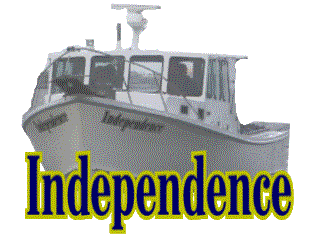 2001 Hvoslef Photos
All images on this page © 2001 by Christina Young.
Welcome to the private dive boat Independence, a 33-foot BHM that cruises up to 25 knots. This boat is especially outfitted for deep wreck diving expeditions far offshore.
The Hvoslef is a Norwegian freighter that was carrying sugar when she was torpedoed in 1942 by the German U-boat U-94. Gary Gentile has a nice write up on this wreck in his Shipwrecks of Delaware and Maryland book. The wreck sits in 140 feet of water approximately 30 miles southeast of Cape May, New Jersey.
The following pictures (all images from video) are from the voyage of the Independence to the Hvoslef on Sunday, July 15, 2001.
We load up the Independence at South Jersey Marina in Cape May, New Jersey.
Dan Bartone jokes around with Mike Nugent and Chuck Cole as Steve Lovas drives the boat out of the marina.
We pass Cape May's sizable commercial fishing fleet on our way out the inlet.
Once we arrive, we discover a wreck that is very badly broken up.
A look at one of the boilers.
Same boiler, different view.
The Hvoslef is a huge pile of junk with debris everywhere. Most likely it was depth charged in the search for U-boats during World War II.
More unrecognizable debris.
A piece of hull plating with a steel porthole backing plate.
A surviving piece of the superstructure.
Very nice brass valves were everywhere, including ones with nice hand wheels. Every one I saw, including this one, was firmly attached to large pieces of wreckage, requiring some time to be spent removing them.
Lots of brass pipes.

Some ribs.

Steve Lovas jumps in to go diving.

Here's a picture of me at the helm, after we pulled anchor to head back.

On our way into the inlet, we catch up with Harold Moyers, Steve Gatto, Tom Packer and Will MacBeth. They are just returning from a productive trip to the submarine S-5, where we will go tomorrow.

They are on Steve Gatto's brother's boat, a fast 31-foot, twin-screw Bertram. They got a very nice brass gauge off of the S-5.

Back to Home | Back to Photos | Back to Scuba Photos | E-mail Me