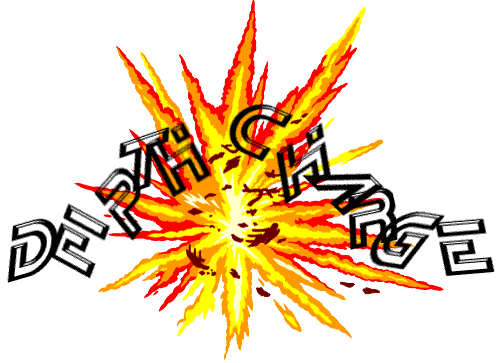 2000 Winneconne Photos II
All images on this page © 2000 by Christina Young.
Welcome to New Jersey's fastest dive boat for deep exploration, the Depth Charge! The Depth Charge is a 42-foot Provincial, custom built to salvage the RMS Republic and other cool wrecks!
The Winneconne was a WWI-era collier which was sunk by the U-151 on "Black Sunday", June 2, 1918, along with five other ships, including the passenger liner SS Carolina and the freighter Texel. The wreck was the first of the Black Sunday wrecks to be discovered and dived in 1995 after extensive research by John Chatterton and John Yurga. The Winneconne lies in just under 210 feet of water approximately 80 miles out of Manasquan Inlet, New Jersey. For more information on the Black Sunday wrecks, see the Black Sunday Virtual Museum. For more Winneconne images, see the Seeker's Winneconne page.
The following pictures (all images from video) are from the voyage of the Depth Charge to the Winneconne, Wednesday, June 21, 2000 (continued from page I). As far as I know, this is only the fourth time a dive boat has visited this wreck, and an artifact that would provide a positive identification has never been found.
| | |
| --- | --- |
| Fire tubes on one of the boilers. | |
| | Looking down at the wreckage amidships. The ocean has done some serious damage over the past 82 years! |
| A large hatch on the wreck. | |
| | A nice brass valve on the wreck. |
| A large lobster, just sitting out in the open. | |
| | I swim over some interesting ribbings on my way back to the anchor line towards the end of my dive. |
| A sea raven just hangs out. | |
| | This is the tie-in point, a small hole in the deck. It took Joe less than two minutes to tie in when he reached the bottom. |
| Bill Cleary passes me on his way down to the wreck. | |
| | I had just reached the 40 foot stop. |
| Joe Mazraani right after he gets back from pulling the hook. We all had a great day, but it's starting to get a little rough. A front is supposed to move through in the evening. | |
| | It's not fun having to drive 80 miles back through snotty seas. When we got closer in, we started encountering 8 foot rollers. This is looking through the port window. I hope you have enjoyed these spectacular Winneconne images. We need to get back there soon! |
Back to 2000 Winneconne Photos I

Back to Home | Back to Photos | Back to Scuba Photos | E-mail Me