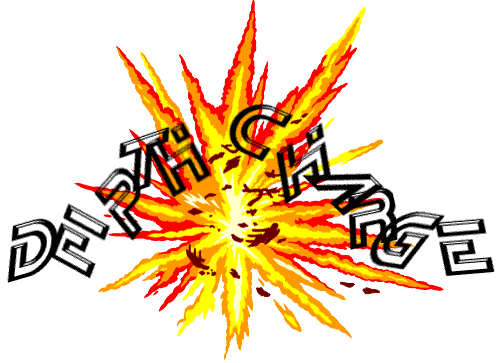 2000 Texel Photos I
All images on this page © 2000 by Christina Young.
The Texel was a 331 foot long freighter sunk in WWI by the U-151 on "Black Sunday", June 2, 1918, along with five other ships, including the passenger liner SS Carolina and collier Winneconne. The wreck was discovered in 1995 after extensive research by John Chatterton and John Yurga. The Texel lies in 220 feet of water approximately 70 miles southeast of Manasquan Inlet, New Jersey.
For more information on the Black Sunday wrecks, see the Black Sunday Virtual Museum.
The following pictures (all images from video) are from the voyage of the Depth Charge to the Texel, Saturday, September 9, 2000.
| | |
| --- | --- |
| Mike Trapani, Petie Wohlleben and Bill Cleary stand around on the way out of Manasquan Inlet at 7 in the morning. Notice the line of boats behind us. I was just waiting for Pete's stage bottle on top of his gear box to roll off over the gunwhale and into the water. ;-) It never happened. | |
| | Today will be the maiden voyage of my new Silent Submersion UV-20 scooter. |
| Bill Cleary arrives on the Texel. The light behind him is a strobe on the ascent chain. Most of the Texel is very broken up, with wreckage all over the place. It is a good artifact wreck, and this is only the fourth time that we know of that it's been dived. | |
| | One of the large boilers of the Texel. Most of these pictures appear snowy. Although visibility wasn't bad, there was a lot of plankton and sediment in the water this day. |
| I fly my new scooter over the remains of the Texel. Here I am coming up on the port side hull of the wreck. You can see a large hole in the deck in the bottom center of the picture. This is relatively atypical of this wreck, most of it has completely collapsed with just steel plates, bulkheads and beams lying around. | |
| | Some ribbings of the Texel. |
| I fly over two portholes on a piece of hull plate in the lower right of the picture. | |
| | Some broken china laying on top of a good digging place on the Texel. |
| Next I buzz Billy. | |
| | Mike Trapani does his deco. |
| Billy flies around during his deco. | |
| | Bill Cleary shows off a dinner plate he recovered. Joe Mazraani has just returned from his dive. |
| A closer look at Bill's plate reveals the initials "HAL". | |
| | This is me with a nice brass gauge I retrieved. |
| After we get back in, we refuel at Hoffman's Marina for the next day's trip back to the same place - the Texel! | |

Back to Home | Back to Photos | Back to Scuba Photos | E-mail Me