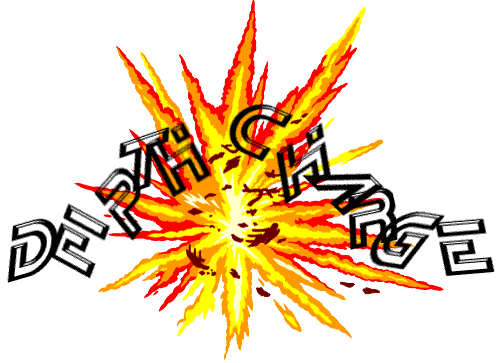 2000 Herbert Parker Photos II
All images on this page © 2000 by Christina Young.
The "Herbert Parker" is actually not the real name of a ship, but rather the name this unidentified shipwreck was given when it was found. This wreck is a very large steel steamer, and has only been dived a few times over the years. It is approximately 55 miles southeast of Manasquan Inlet, New Jersey, in 190' of water. We have speculated that this wreck may be the Cayru, or even the Rio Tercero, both freighters sunk in World War II, neither of which have been found.
The following pictures (all images from video) are from the voyage of the Depth Charge to the "Herbert Parker", Sunday, September 3, 2000 (continued from page I).
| | |
| --- | --- |
| This is looking forward from inside the bridge area on the top floor of the superstructure. The ceiling has long since collapsed, and there are beams rubble everywhere. | |
| | Another view looking out the front windows of the bridge. |
| Rubble inside the bottom floor of the superstructure. I'm sure there are cool artifacts to be had by rummaging through it. | |
| | Looking back at the front of the large superstructure. |
| Another view of the same. The front columns remind me of a large building with a grand entrance. | |
| | A view looking sideways at the front of the superstructure, from the starboard side. |
| Here I am looking back at the superstructure as I swim forward to the tie-in point. | |
| | This is the tie-in point, a spot on the deck about 25 feet in front of the superstructure on the starboard side. |
| The silhouettes of Bill and the boat floating above me as I ascend to do my hang. | |
| | A pod of dolphins pays us a visit. They say in their language of squeals and whistles that they hope that you have enjoyed these pictures of our trip to the Herbert Parker! We hope to have this wreck identified soon. |
Back to 2000 Herbert Parker Photos I

Back to Home | Back to Photos | Back to Scuba Photos | E-mail Me